Version Affected: [All]
Description:
When Ubuntu Teams is integrated with an O365 realm on the IdP server, the client continues to crash directly after entering the user's email address. The user will see "Taking you to your organization's sign-on page" until the client crashes and automatically launches again.
Despite this behavior, the Teams client works fine in Windows, Mac OS X, browsers, and mobile devices. Additionally, reviewing realm and IIS logs on the IdP server show no traffic hitting the box from the time of the sign-in attempt via the Ubuntu client.
Cause:
This may be the result of either a proxy setting or setting in the web application firewall, where the Linux user agent string is being denied.
In a case where the user agent is being denied via F5: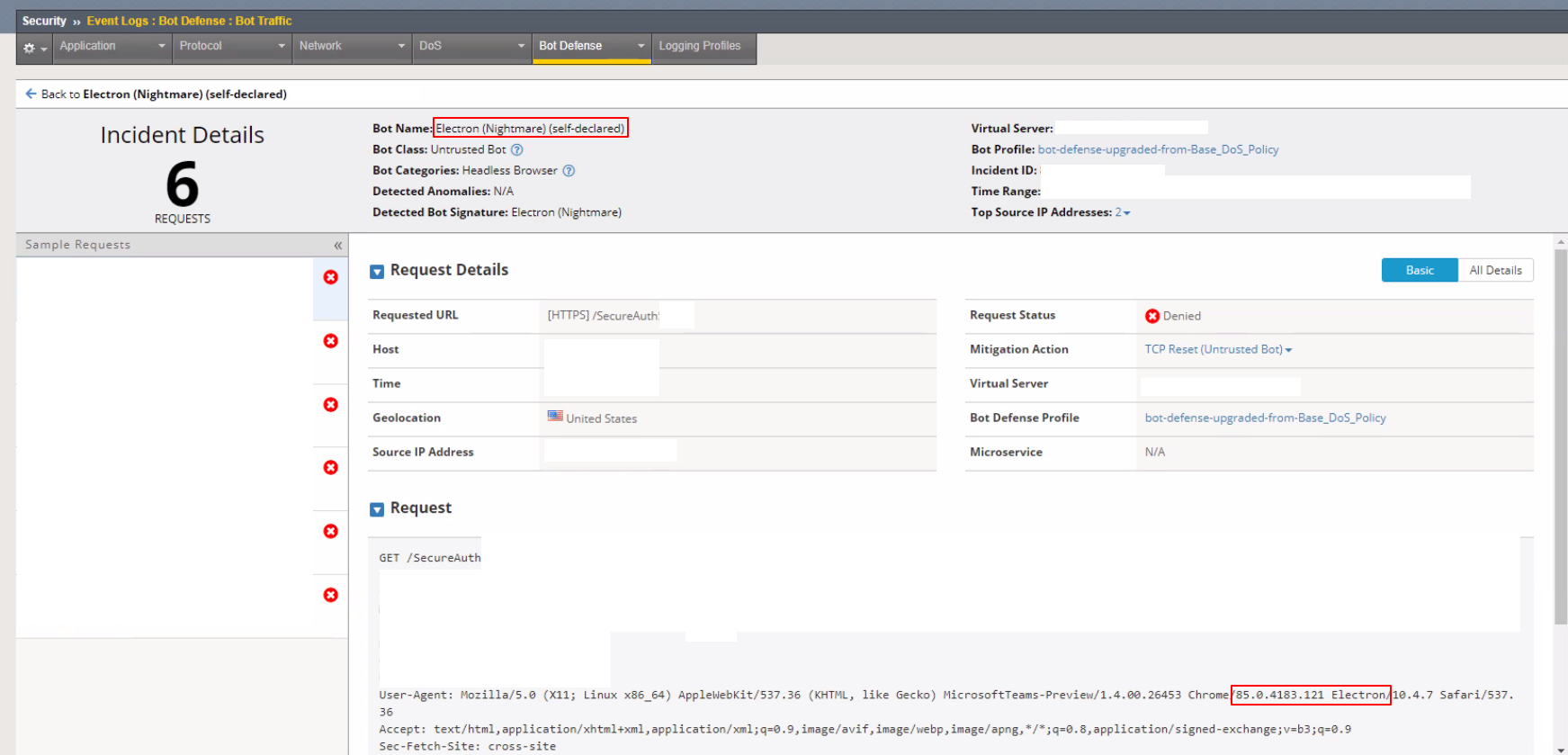 Note the user agent that is being flagged as the bot in the photo.
Mozilla/5.0 (X11; Linux x86_64) AppleWebKit/537.36 (KHTML, like Gecko) MicrosoftTeams-Preview/1.4.00.26453 Chrome/85.0.4183.121 Electron/10.4.7 Safari/537.36
Resolution:
Check if there are any firewall settings that may be flagging the user agent and causing the Ubuntu client to not reach the IdP server(s).
SecureAuth Knowledge Base Articles provide information based on specific use cases and may not apply to all appliances or configurations. Be advised that these instructions could cause harm to the environment if not followed correctly or if they do not apply to the current use case.
Customers are responsible for their own due diligence prior to utilizing this information and agree that SecureAuth is not liable for any issues caused by misconfiguration directly or indirectly related to SecureAuth products.