Description:
How to enable Windows Authentication using New Experience. This will allow you to keep more realms on the New Experience rather than having to create classic experience realms.
Cause:
There is no direct option in the New Experience UI to set up Windows Authentication.
Resolution:
1. Under Policies > Any Selected or New Policy > Multi-Factor Methods > Login Workflow
Select "Passwordless" dropdown option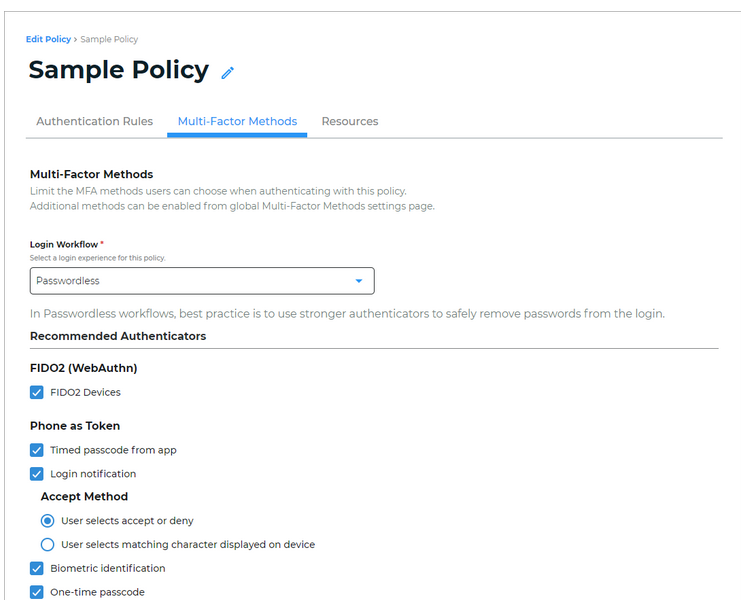 2. Go to Classic Experience > Workflow Tab > Workflow Section
Double check that Public/Private Mode is set to "Public Mode Only"
3. Go to Classic Experience > Workflow Tab > Custom Identity Consumer
Change the following:
Receive Token to "Token"
Require Begin Site to "True"
Begin Site to "WindowsSSO"
User Impersonation to "True"
Windows Authentication to "True"
SecureAuth Knowledge Base Articles provide information based on specific use cases and may not apply to all appliances or configurations. Be advised that these instructions could cause harm to the environment if not followed correctly or if they do not apply to the current use case.
Customers are responsible for their own due diligence prior to utilizing this information and agree that SecureAuth is not liable for any issues caused by misconfiguration directly or indirectly related to SecureAuth products.