Version Affected: 19.07.01+
Description:
When upgrading from an older version of SecureAuth, Country restrictions changes the way it behaves for internal IPs in the Classic Experience
Cause:
The Country Restrictions behaviour for unknown IPs has changed a few times over the years as we seek to provide the best options.
In 19.07.x we provide options at the top of Adaptive Auth tab for how to react when we cannot determine the Users location due to a service disruption and another for if we receive the IPv6 address.
If we determine the address is an Internal IP address, we know that won't resolve to a country so we set it as -
Resolution:
If you wish to treat your Internal users the same way as if they are coming from an "Allowed" country, please do the following
1. Open the Admin Console and navigate to the realm in question
2. Click the Adaptive Auth tab
3. In the Country Restriction section, edit the country list to add , -
Eg, if you currently allow US you'd change it to US, -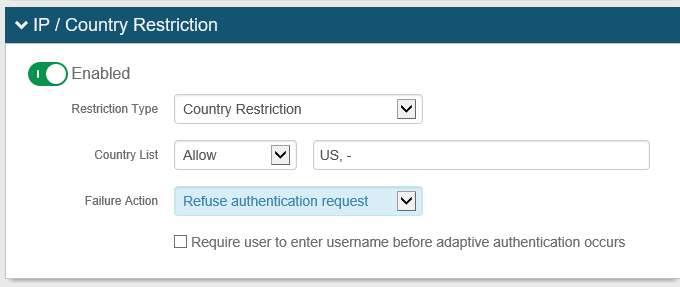 4. Hit save.
SecureAuth Knowledge Base Articles provide information based on specific use cases and may not apply to all appliances or configurations. Be advised that these instructions could cause harm to the environment if not followed correctly or if they do not apply to the current use case.
Customers are responsible for their own due diligence prior to utilizing this information and agree that SecureAuth is not liable for any issues caused by misconfiguration directly or indirectly related to SecureAuth products.