SecureAuth IdP Version affected: All

Description:
This KB article describes how to utilize CredSSP on Domain Joined machines in order to not have to retype your credentials when launching an RDWeb App.

Cause:
NA

Resolution:

These policies can be set using the group policy editor (GPEDIT.MSC) either locally or at the Domain level. These polices are located under the "Computer Configuration\Administrative Templates\System\Credentials Delegation" node.

The specific policies are as follows:

"Allow Default Credentials with NTLM-only Server Authentication"
"Allow Delegating Default Credentials"
"Allow Saved Credentials with NTLM-only Server Authentication"

Normally only "Allow Delegating Default Credentials" is required but if you have issues, enable the other 2 as well.
The server list needs to be defined. The server list can contain wildcards and each entry takes the form of "TERMSRV/server". Examples would include "TERMSRV/*" to allow everything.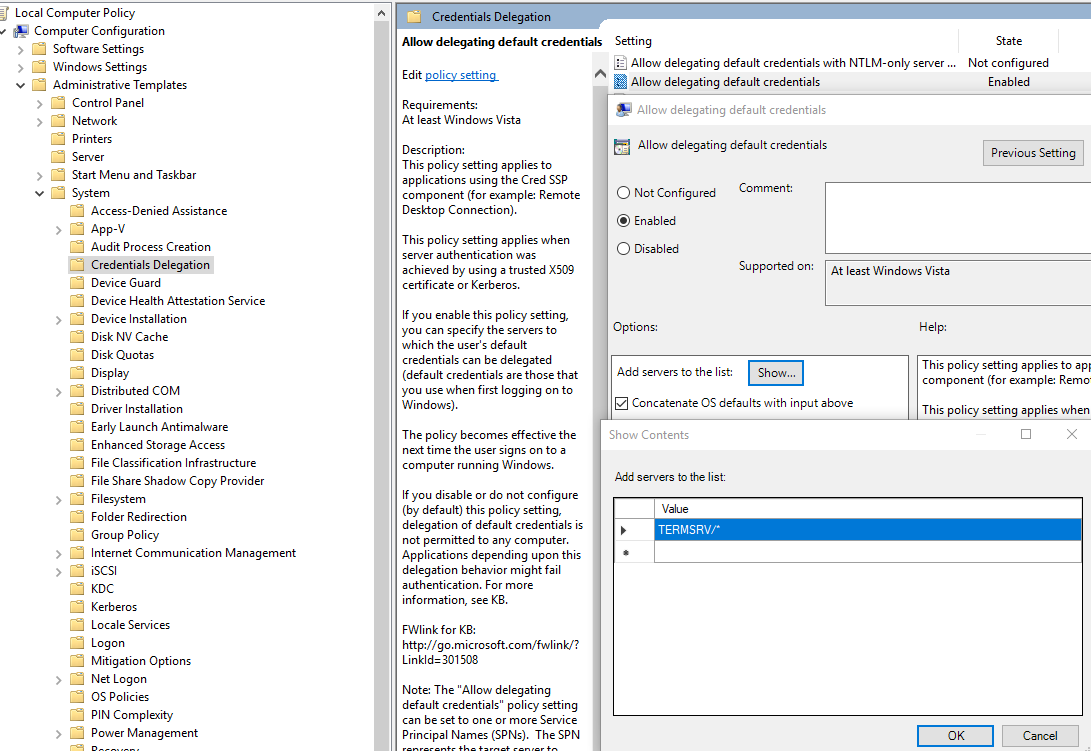 Please consult Microsoft KB
http://support.microsoft.com/kb/951608
to configure GPO manually for XP SP3 clients if needed.
SecureAuth Knowledge Base Articles provide information based on specific use cases and may not apply to all appliances or configurations. Be advised that these instructions could cause harm to the environment if not followed correctly or if they do not apply to the current use case.
Customers are responsible for their own due diligence prior to utilizing this information and agree that SecureAuth is not liable for any issues caused by misconfiguration directly or indirectly related to SecureAuth products.