Version Affected: All
Description:
When installing the SecureAuth IdP software, on a new system, the SecureAuth IdP Setup Utility does not continue and shows the error "Could not establish a connection to the Internet".
Cause:
SecureAuth IdP Setup Utility requires access to TCP ports 80 and 443 outbound from the IdP server during the installation.
Resolution:
Make sure the IdP server can communicate via HTTP and HTTPS to the internet.
Here is a screenshot of the error shown in SISU during the error: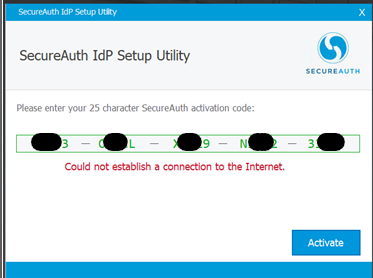 Special Considerations (optional as needed):
Administrators of the SecureAuth IdP may be required to get their Networking/Infrastructure team(s) involved in allowing HTTP and HTTPS traffic outbound from the SecureAuth Servers.
SecureAuth Knowledge Base Articles provide information based on specific use cases and may not apply to all appliances or configurations. Be advised that these instructions could cause harm to the environment if not followed correctly or if they do not apply to the current use case.
Customers are responsible for their own due diligence prior to utilizing this information and agree that SecureAuth is not liable for any issues caused by misconfiguration directly or indirectly related to SecureAuth products.