SecureAuth IdP Version Affected: 9.0.2+
Description:
When using an Oracle data store and the connection string is greater than 246 characters long it will produce this error in the admin console after saving: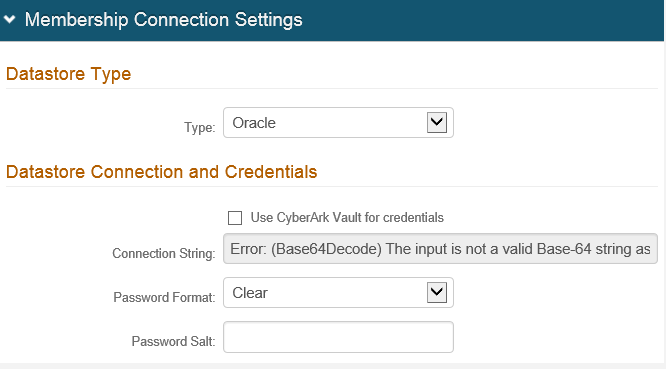 Cause:
Product defect IDP-2510. Connection strings up to a 32 bit integer (2,147,483,647) should be possible
Resolution:
Waiting to be addressed in a future version of IdP.


Workaround:
1. Decrypt the web.config.
2. Open the web.config in a text editor, find the Oracle connection string and enter it as desired, then save the file.
SecureAuth Knowledge Base Articles provide information based on specific use cases and may not apply to all appliances or configurations. Be advised that these instructions could cause harm to the environment if not followed correctly or if they do not apply to the current use case.
Customers are responsible for their own due diligence prior to utilizing this information and agree that SecureAuth is not liable for any issues caused by misconfiguration directly or indirectly related to SecureAuth products.